There's a rebuttal out there to the accusation of being paranoid, and that it is not paranoia if somebody's really out to get you. Effective as a "Strike two!" call in a baseball game is the newest reveal that the
US Army is naming the American Family Association a domestic hate group
akin to the KKK and the Westboro Baptist Church. And to make sure Army personnel didn't misunderstand, the briefing at which this became an issue included a presentation slide putting Fred Phelps' photo (complete with him holding up a poster that says "No Special Law for F***") on a slide labeled American Family Association. The rationale? The AFA is strongly pro-traditional marriage and opposed to the recognition of same-sex unions as marriage.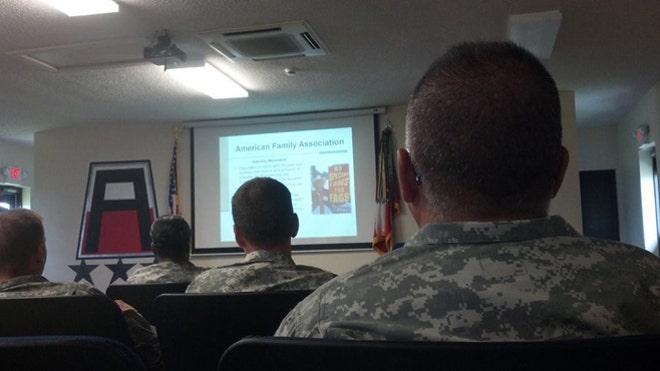 Apparently, that position is all it takes to be labeled by the Army.
Ahem. When did the US Army get First Amendment rights? I know for certain that individuals in the military have limited free speech rights on the condition of their service, so I would think that logically, our entire military has to curb its freedom to express an
opinion
that opposition to same-sex marriage is hate. Speaking of free speech, it is an opinion that exceeds the purview of the military, because marriage is, as many conservative groups have argued, is just a social issue. Hate is a social issue. Violence and the threat to harm is not, and clearly the AFA is not an organization that engages or endorses any type of violence whatsoever.
This is a "Strike two!" occasion because, as Todd Starnes pointed out, this briefing by the Army is itself a dangerous hate move not unlike how the Family Research Council was also labeled by the Southern Poverty Law Center as a potential target for a truly hateful fascist to attack,
which then happened
. In fact, Army officers have come to see themselves as idealogues and the mechanism of the Army as a force for activism.
One officer said the two Christian ministries did not "share our Army Values."
"When we see behaviors that are inconsistent with Army Values – don't just walk by – do the right thing and address the concern before it becomes a problem," the officer wrote in an email to his subordinates.
The US Army has values? And it is incumbent upon the American public to conform to those "Army Values?" Call me hog-tied to the text (or paranoid!), but I'm certain that whatever Army Values exist are supposed to be reflective of the US Constitution which in no way acknowledges that one must campaign to "address concerns" of average American citizens that are "inconsistent with (so-called) Army Values."
So if the Army is going to fling open that door, then I'm not paranoid, and it's safe again to trod out Hitler references to things I find smack of fascism. I ask that our government root out the Nazi dictator who compiled this briefing and jack him/her up for conspiracy to deprive the people of the AFA of their First Amendment rights and for putting them in potential physical harm.
Warning: unlike baseball, there is no limit to the number of strikes anyone can make against Christian groups.